News
08/12/2015

Player Evaluations
TUESDAY, AUGUST 18 & WEDNESDAY, AUGUST 19
HUNZIKER YOUTH SPORTS COMPLEX
6:00PM 8:00PM
---
We will welcome players from AA through Senior League to be evaluated to allow coaches in 2016 to select evenly-balanced teams.
Players planning to play T-Ball or A-Division will not need to be evaluated.
Coaches from select Ames Storm teams will also be on hand to evaluate players and answer questions about additional baseball opportunities for players.
---
All players are encouraged to attend one session, as evaluation scores will be used in the 2016 player draft.
Players do not need to attend for the full two hours. They are free to leave after they have been assessed at each station.
08/12/2015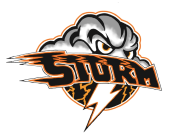 Tournament Team Tryouts
The Ames Storm baseball group is a coordinated collection of tournament and spring league teams in Ames. This will be the first year of baseball under the Storm name, although many of the coaches have been involved with baseball for several years.
The Storm seeks to offer kids the chance to play at a more competitive level of baseball, while also maintaining a strong Little League program in Ames. It is the belief of the coaches that a strong Little League program is good for the community of Ames and will lead to a stronger high school baseball program. Practice and game schedules will be coordinated with Little League to allow all players to participate and excel on both teams. Players will also be eligible for Little League all-star competition.
Players will be selected for each team based on the following factors: attitude, work ethic, and talent.
The Ames Storm will form teams at
9U, 10U, 11U, & 12U
and will compete in Ames Spring League and USSSA tournaments in 2016.
Kids will play:
Tournaments
Ames Spring League
Little League (on different teams)
Benefits:
Trained and experienced coaches
Local weekday games (Ames Little League)
Practices and games at HYSC, Brookside, and River Valley
Little League all-star tournament eligibility
Coordination with Little League schedules
08/10/2015
Families, Parents and Friends,
The 2015 Ames Little League season has ended, but the little league board is already preparing for the 2016 season! We are planning on doing evaluations yet this late summer/early fall. In addition we will be forming 2016 Spring League teams. These teams will play in the 2016 Ames Spring League as well as playing a few additional tournaments in 2016. We will be sending out additional information on dates, times, etc. as they are finalized. Please let us know if you have any questions.
Working to make your little league better,
-The Ames Little League Board